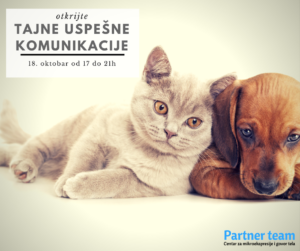 Why to attend?
Adjust the communication with others and "speak the same language"
Save time for "obviously" explonations
Minimize potential conflict, stress and "save your nervs"
Understand others even if they don't speak
What will you get?
Clearly understanding needs of others based on their communication (verbal and nonverbal)
Faster and succesfuly building of positive contacts and relationships with others
Realizing of importance of body language in every day communication
Content
Basic principles of "Collaborative communication"
Extra-powerful tools and techniques for adapting to others
Individual and group works and analysing of videos
Who could attend?
Everybody who fit follows:
-between 18 and 118 years old
-passionate for learning and adapting
-willing to share knowledge and experiences with others
-ready for challenges
Date, time and place
October 18th 2017. from 5PM to 9PM
Banovo Brdo, Belgrade
Price
4.990 RSD
Payment have to be done 5 days before starting date
More info: office@mikroekspresije.com